"The Hope for the Future"
Photo Gallery of Hope
This photo gallery is here to share the experiences and the photos of the families and the patients who experienced NH in their lives. These families went through the emotional trauma that NH can cause. These are their stories, in their own words, about facing the future and making the decision to have another child in the future.
We especially want to share stories of women who have had an NH baby in the past, and are at high risk of having another NH baby in the future (80%+) but who have used the new IVIG treatment (developed by Dr. Peter Whitington and his research team) during pregnancy which has allowed them to have a healthy baby. We hope that these stories will inspire others and give them the hope and courage to try this treatment, too, in the hope that they might have a healthy child in the future. If you would like to share your story (and/or poems, photos) of success using this new treatment, please call us directly at: 407-829-4488 or toll free at: 1-888-655-IRON (4766). Please call to reconfirm receipt of your story. Thank you.
Sandra Thomas, President, American Hemochromatosis Society

*****************************************************************************************
Story #1:
On June 4, 2005 born to us was a little angel, Giselle Elizabeth Gugyelka. We had a perfectly healthy pregnancy with no complications. Her birth was uncomplicated but within 2 hours after she was born trouble started and she was taken to the NICU. After 7 days of endless investigations, medications, consultations she was taken to heaven. We were devastated and had no idea what had taken her life. After an autopsy was completed she was diagnosed with Neonatal Hemochromatosis (NH). We are from Canada and no one had ever heard of this disorder in newborns. Our Neonatologist had searched the Internet and had found a paper in Lancet written by Dr.Peter Whitington about this disorder.

We found out that the chance of reoccurence was great and we were told that to have another child was very risky. Our world came crumbling down. We wanted to add to our family (we have a healthy happy 3 year old) but were faced with the harsh reality that this may never happen. Then we talked to Dr. Whitington and he truly changed our lives and gave us hope for the future.

To try and have another child under his protocol took a lot of soul searching and discussion. With the support of other NH parents, Dr. W, friends and family we decided to try. The IVIG treatment was uneventful. I tolerated it well with little to no side effects. The greatest factor was taking the time each week to get it and the numerous ultrasounds that were taken to assess the baby. We had to travel 3 hours each way to a bigger hospital.

On Jan.11, 2007 born to us was a healthy baby boy, Jager Darren Gugyelka wt.6lbs 13 ounces 21 inches long. He was observed in the special care nursery for 3 days. His blood work came back normal and he was given no treatment or medications.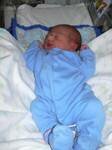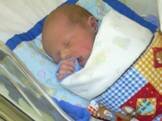 Jager Gugyelka Jager Gugyelka

Dr.W's treatment protocol has given us the opportunity to add to our family. We are truly greatful to him and his research. All the tears and hard work have paid off with the birth of our son. We are glad that we decided to have another child.


Natasha and Darren Gugyelka



***********************************************************************


Story #2:
Kamryn Jenae Galloway
5/12/2001 – 7/11/2001
Several days after Kamryn was born she had been diagnosed with NH. 9 days after her birth she was on a plane to UCSF. They could help her there and get her a liver transplant. For 6 weeks we traveled back and forth from San Diego to San Francisco . Kamryn never got well enough to get a liver transplant. She lost her battle with NH on July 11, 2001. This was the hardest thing we had ever been through.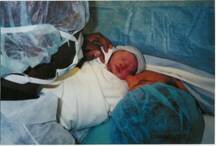 Kamryn on her birthday 5/12/01
A couple years later we decided to try to have another child. For some reason we just knew our chances of having a healthy child would be in our favor this time. Not until after I had become pregnant with twins did we find out how serious our situation was. We were told that the twins will have NH. Fortunately we had a great team of doctors who located Dr. Whitington and told us about his research. We immediately got everything in place to begin the therapy. The therapy was successful and our twins, Layla and Mya were born June 1, 2004.
We are thankful to all of the wonderful doctors who treated me and the twins. Dr. Whitington will be a part of our lives forever.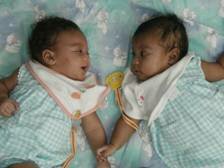 Layla and Mya
Kindest Regards,
Kathy and Kerry Galloway
Update/written on July 3, 2007:
Hi Sandra,

I'm finally getting around to sending you a picture of the twins. These were taken a couple of days before they turned 3. Their birthday is on June 1. They are doing wonderful. They are very healthy and curious little girls. They definitely keep me busy!

Mya is on the left and Layla is on the right. Hope you're doing well.

Take care,

Kathy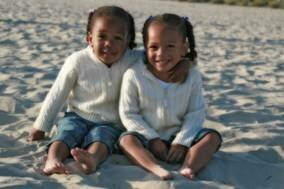 Mya & Layla at 3 years old!
*************************************************************************************

Story #3: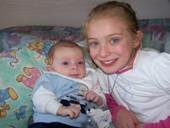 Jonathan and Katelyn
I have a daughter Katelyn who is now 6 years old born (25.3.01). The first 4 weeks were constant crying. At five weeks Katelyn's feeds were reduced dramatically to the point she became dehydrated. Upon a visit from the Community Nurse she advised we take Katelyn to hospital. After a Care Flight helicopter ride to Westmead Childrens hospital Katelyn was found to have Supra-Ventricular Tachycardia caused from Wolf Parkingson White Syndrome. Katelyn was on medication for 12 months and has not had a reoccurance. Katelyn's next scan will be at 9 years of age. It is also very good to see that it has not effected her in any way.
Three years later we tryed for another child. Ryan Stephen Jack Mitchell was born (17/12/04). He was cleared of SVT & WPW and sent home with a little Jaundice. We had a wonderful Christmas with Ryan and he did not show any signs of what was in stall. When he was 20 days old the Jaundice was not getting any better and he was having trouble waking for his feeds. We started to worry as we had gone through the reduced feeds with Katelyn and we started to think about whether Ryan was hydrated. The Community Nurse arranged for the Pediatrician at the hospital to have a look at him. At the hospital the Doctor took some blood and said he may have to go under lights. He sent me home and said he will ring me in an hour with results. The doctor called and ask me to get to Westmead Children's Hospital urgently. We got to the Westmead Hospital and doctor's did more blood test to try and find what was wrong. At 21 days old Ryan went into a mini coma and did not wake for 4 days. After daily blood test it was found that he had Neonatal Hemochromatosis (NH) and there was nothing they could do but support him. Ryan passed away 26 days old at 8.55pm on the 12/1/2005. The loss of Ryan was devastating to Stephen, Katelyn & I.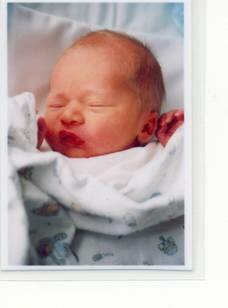 Ryan Stephen Jack Mitchell
At the time of Ryan's passing the Professor looking after Ryan suggested some tests to be completed to confirm their diagnosis. A biopsy was taken of Ryan's liver. Six month's we received the results back from the liver biopsy. It was not genetic and it was confirmed NH. The Professor told us about Dr. Whitington's study and advised us who to see next to be part of the study. Twelve months later we were approved to have Immune Globulin. This was very exciting as it now gave us the opportunity to have another child.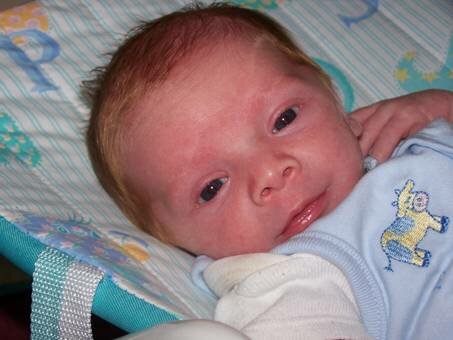 Ryan's brother, Jonathan Mitchell
In July 2006 we had great news that I was pregnant. We started the Immune Globulin at 18 week's. I spent 8 hours every Wednesday until the 36th week and I was induced at 36.6 weeks. Jonathan was born (23.4.07) a Beautiful 3.5kg (7.7pounds)and 54cm long. Jonathan's ferritin & AST were slightly elevated but with Vitamin E injections he was fine. We were sent home with no medication after six day's. Jonathan is now 23 weeks and is going great. A very happy boy and a very happy family.
Thanks,
Lynnette
************************************************************************************
Story #4:
The Sevcik Twins
Sandra,
Hi, I wrote to you early this year with a memorial for our daughter, Kate Sevcik. At the time we were expecting, and since have had healthy twins (a boy and a girl) after following Dr. Whitington's protocol of Ivig starting at week 18. We would love to post our "success story" on your website to help provide hope to others. Here it is, plus a few pictures. Thanks so much!
Joe and Melanie Sevcik
Thanksgiving weekend of 2006 we lost our daughter Kate to NH. We didn't know it was NH until after we learned we were expecting again. Initially, this was very stressful as we had to prepare ourselves for the worst…again. We contacted Dr. Whitington in Chicago and felt better about the prognosis but still had so many questions. Then we learned we were expecting not one but two babies. We started preparing to get insurance coverage, one of our biggest concerns since the cost for IVIg was so high and we could not have afforded it out of pocket. There was much relief when we learned the IVIg treatments would be covered. The first treatment was done in the hospital but all subsequent treatments were done at home. The first one was rough because they started the infusion at too quick a rate and even though they slowed it down, the effects were already taking place. I felt as though I had a very bad flu…headaches, nausea, vomiting, and severe body aches. It took about 3 full days after to recover. With two other small children at home to take care of, I prayed this would not be an every week occurance but we prepared for the worst. The following week I had a home health nurse come to give the infusion and she took steps to alleviate the rough side effects. I felt fine the next day, and that continued through all of the treatments. I really loved my nurse and it was a great experience. After not being able to do anything for Kate, I at least felt that I was doing something to help these babies. On August 20, 2007 they were born at 34 weeks gestation due to problems with me not related to NH (gestational thrombocytopenia). Their liver tests came back great. They spent 9 days in the hospital on the gain and grow plan before bringing them home on no medications.
After we learned Kate had NH, I don't know that we would have had more children had I not already been pregnant. I am so glad that decision was out of our hands because the treatment was not difficult at all and the outcome has been absolutely wonderful! We are so grateful to Dr. Whitington for all the research he has done on NH and his help to get the treatment I needed as well as guiding the perinatologists and neonatologists through my pregnancy and the babies' first days.
The Sevcik Twins
****************************************************************************
Story #5:
"Our little light in the dark night..."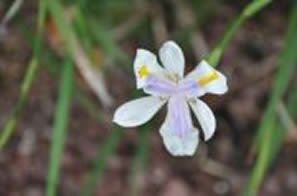 Trinidad--Born October 2002
Dear Sandra:
When I wrote to you in 2001, you helped me to contact Dr. Knisely and then Dr. Whitington. I have four children now, Lia Montserrat, 10 years old; Jeremías Agustin, 9 years old; Ulises Nicolás, 6 years old; then Candelaria was born on February 1st , 2001. She lived only 30 hours—it was very bad, and she died on February 2 nd . We were all so sad, because of this loss in our family. When I watched my daughter or my husband cry, the pain increased a lot. My child, Lía, said: I would like to die so that I could stay with my little brother..." As a mother, I didn't know how to answer her. I felt that God was not looking at our problems.... but I prayed more, until the little light in the dark night appeared: I found your web site ( www.neonatalhemochromatosis.org ) and then your help, and the Dr. Knisely and Dr. Whitington, too. My obstetrician stayed with me and helped me with the new treatment by Dr. Whitington. In October 2002, Trinidad was born! Today, we all remember our little Candelaria, but Trinidad erased the bitter taste. Today, we are all grateful to God for this miracle and you and the doctors, of course. Some people might not understand why I would seek another baby since I already have three other healthy children, but I felt that I wanted to have another child after losing my little Candelaria. It was a way to honor her life, however short it might have been, and to give another soul a chance at life. This is my story.
Maria Beatriz Montico
************************************************************************
Story #6:
"...he expands our hearts and fills our home with joy and hope again. Soli Deo Gloria..."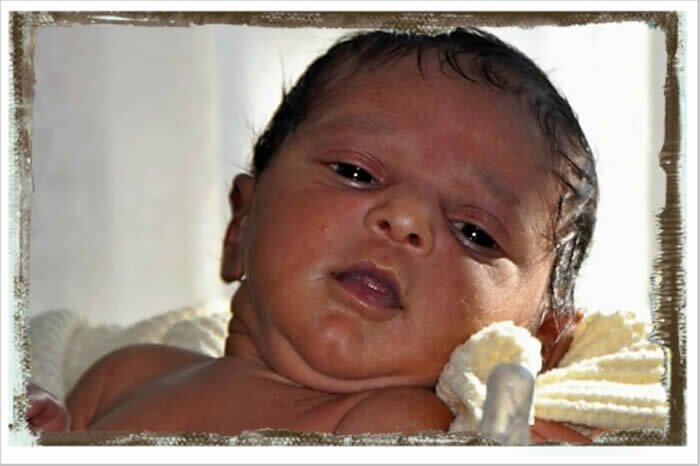 Gideon Lee Dario Nyangamoi
Born: February 1, 2012
One year after Ethan's passing from our arms into the arms of Jesus we found out that we were expecting again. We had talked about the idea of trying again after finding out about the IVIG treatment, talking with Dr. Whitington, and getting connected to a group of fellow NH/GALD parents. After hearing the stories of those who had tired successfully before and those who were currently undergoing treatment it made us feel much more "not alone" in our unique life experience. We were very excited and yet also very worried as the months of our pregnancy passed, and yet at each doctor appointment we were reassured that all looked well this time. I went every Friday afternoon to our local hospital to receive the IVIG treatment – a 6 hour process each time, but so worth it in the end! We felt like I was able to do something this time to prevent this horrible disease from claiming another life. We are so incredibly humbled and honored to be able to announce that Gideon Lee Dario Nyangamoi was born on February 1, 2012. He was pronounced perfectly healthy at birth and we are so very grateful for the gift of life that God has given into our home. Gideon in no way replaces our precious Ethan whom we laid to rest almost two years ago, but he expands our hearts and fills our home with joy and hope again. Soli Deo Gloria.
"Everyday Holds the Possibility of a Miracle"
****************************************************************
Story #7:
"Rivers"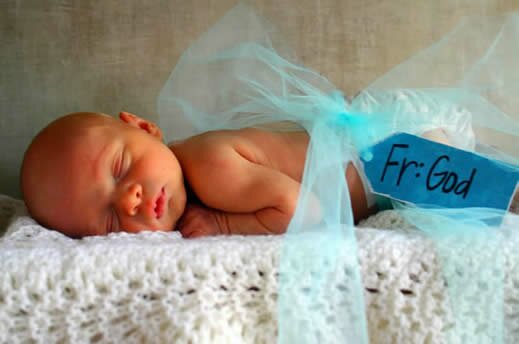 Kasen Rivers Cheramie (Born: January 21, 2011)
Soon after Adyson passed away we did decide we wanted to have another baby. We contacted Dr. Whitington and became pregnant immediately and I went through the treatment in 2010. It was a surprise to us when we were told that her baby brother, Kasen Rivers Cheramie, was due on the one year passing of Adyson, which was January 22 of 2011. He came a day early, January 21, 2011. Even though we miss her tremendously, we give God all the glory for blessing us with three beautiful children, Konner (6), Adyson, and Rivers (1).

Sandra, thank you once again.

Kari Cheramie
http://www.caringbridge.org/visit/adysoncheramie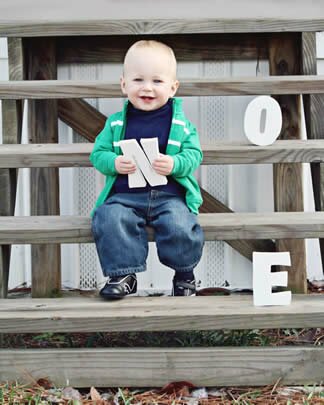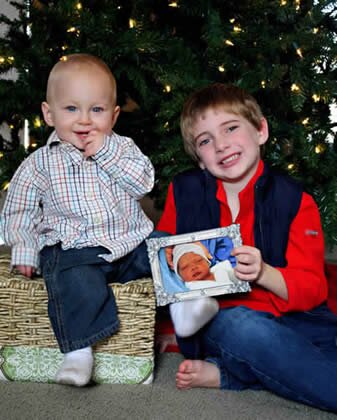 "Rivers"--Age 1 year Rivers (1) with Konner (6), holding a photo of their sister, Adyson
***************************************************************
Story #8:
"Nicholas"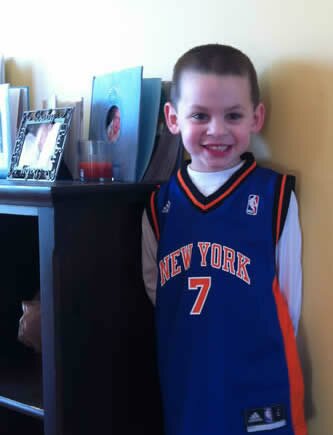 Nicholas Anthony Ruzicka
Born: March 20, 2007
Nicholas is the son of TinaMarie and Richie Ruzicka, who lost a child, Anthony, to NH (please see the Memorial Page).
Now, they have another child, Nicholas, who is doing well and is an active 5 year old.
TinaMarie had the IVIG treatment developed by Dr. Peter Whitington while she was pregnant.
Tina had another baby in 2012 using the IVIG treatment who is doing well!! (See Story #9)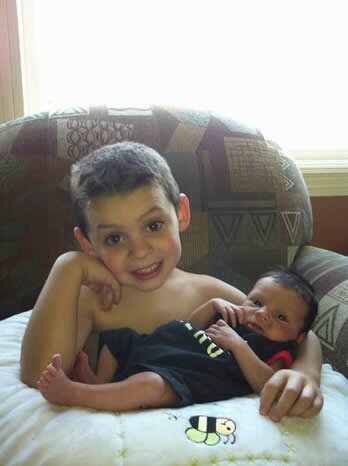 Jaxson Rocco Ruzicka being held by his big brother, Nicholas
******************************************************************
Story #9:
"He is completely healthy & was born with no NH...."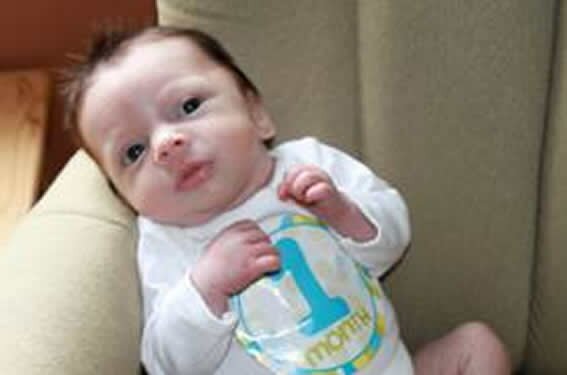 Jaxson Rocco Ruzicka
Born: June 18, 2012
Hi Sandra, Our Little Boy came early. I was due July 28th, 2012, but I had him on June 18th. My uterus was going to rupture from my 2 previous sections so I had an emergency c-section & My Jaxson Rocco was born 6/18/2012 at 8:14pm 5lbs. 6oz. 18in. He was 34wks 2days so his Lungs were immature & ended up with RDS ( Respiratory Distress Syndrome) was on a ventilator then had 2 chest tubes put in because he got pneumothorax. That was all in the 1st 4 days. It was scary & he spent 3 weeks in the NICU & came home on July 9th.
I am so happy to say he is completely Healthy & was born with no NH:). He is perfect!!! Nicholas (see story #8) is so happy to be a big brother!!! I will be sending you a pic of him.
Thank you,
Tina
************************************************************
Story #10:
"This is a great success story!"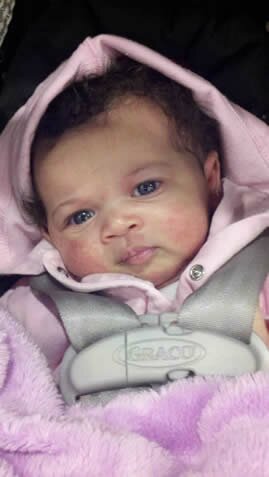 Olivia Noelle Davis
Born: 12-12-12
My son, Noah Anthony, was birthed at 30 weeks gestation on October 1st, 2009. He died shortly after birth due to his liver and other organs being ruined by the effects of Neonatal Hemochromatosis (NH). I knew for two months that I would lose my son once we discovered there was something terribly wrong occurring. On October 1st, 2009, I gave birth to my beautiful son, watched him look around the room as I held him before he was rushed to the NICU and the Neonatologists attempted to save his life. This was not successful and I had to say goodbye to my first child. The worst and most painful event I've ever experienced.
On April 27th, 2012, I found out I was pregnant again. I was terrified I would lose another child, and terrified that the IVIG treatment (developed by Dr. Whitington) would not be covered by my insurance. After sending the proper documents from Dr. Whitington, to my doctors and to Cigna, the treatment was approved and began at 14 weeks gestation.
At the end of my long, emotional and stressful pregnancy, I gave birth to a healthy and beautiful baby girl, Olivia Noelle. Olivia was born at 37 weeks and 5 days gestation, at 2:27 pm, on 12/12/12 weighing 6 pounds and 11 ounces. No words could adequately express and describe the joy and relief I felt as I saw my daughter come out and heard her soft, sweet whimper and looked into her face, as she innocently blinked and looked around the room.
Without this treatment, motherhood would not be possible for me. And I am eternally grateful to Dr. Whitington, and to God, for creating this treatment. I now have a beautiful, healthy and growing baby girl to wake up to every morning. This is a great success story!
To all women who have suffered or will suffer a loss to this disease, have hope! Because undoubtedly, with this treatment, you will be able to experience the blessing of motherhood, too! :)
Thank you Dr. Whitington!
-Nadia Davis

Updated Photo of Olivia! (August 17, 2013)
"Olivia Noelle"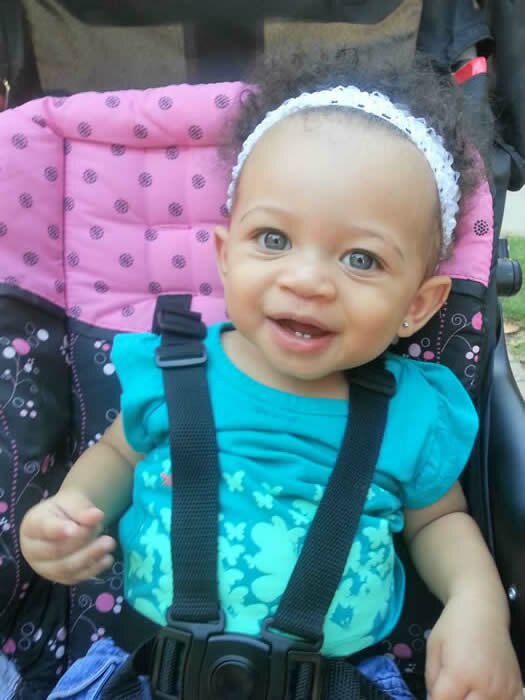 Olivia Noelle Davis
Born: 12-12-12
*******************************************************************************
Story #11:
"Violette"
Violette Rhaeca Maeve Mueller
Born: March 18, 2014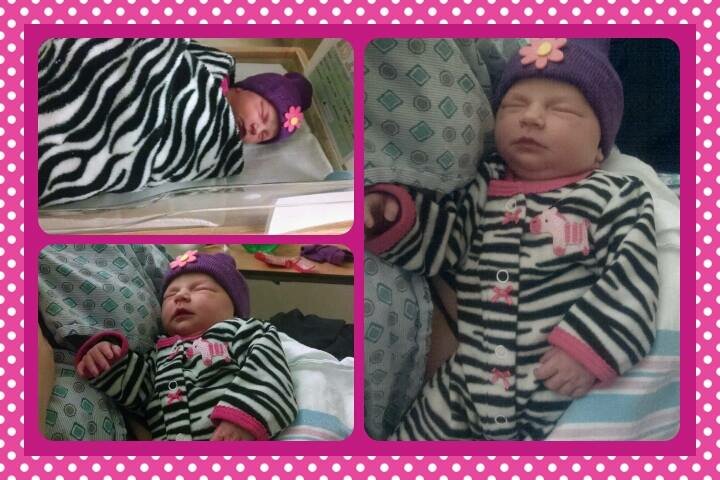 My Granddaughter Verhonica Mueller is in the memorial section of the NH page. She passed away at 21 days of NH.

I am pleased to tell you that this past week on March 18,2014 my daughter and her husband welcomed their first IVIG rainbow baby. Violette Rhaeca Maeve Mueller, she arrived at 36 weeks, due to the fact that my daughter developed a rare anemic reaction to the IVIG.

Violette was 6lbs 2.2 oz. and was 18 inches long, her liver enzymes were slightly elevated at first but corrected themselves after a few days with no treatments, she is doing great and amazing us every day. I am enclosing a photo of Violette, and one of her and her big brother, Drayven, to add to the success story section of your site.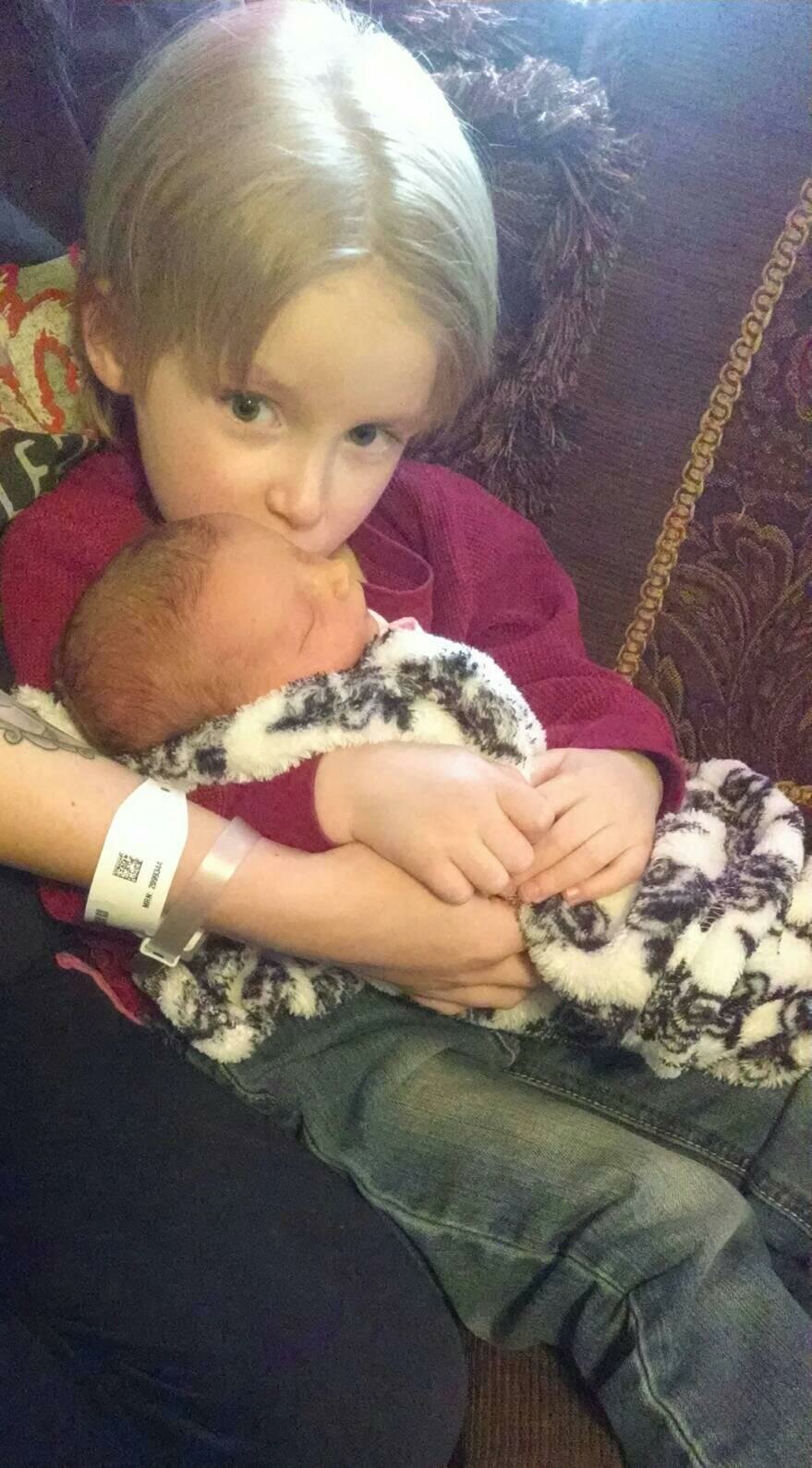 Big brother, Drayven, proudly holds his little sister, Violette

Huge thanks to you and to Dr. Whitington for allowing families to have healthy babies after the biggest heart break.

Thank you,

Kelly Wolfe
******************************************************************************
Home | About NHIC | Experts | Medical Literature | Memorials | Photo Gallery | Feedback
This page was last updated 05/18/2017