Candelaria Gorosito
February 1st, 2001 to February 2nd, 2001
Dear Sandra:
When I wrote to you in 2001, you helped me to contact Dr. Knisely and then Dr. Whitington. I have four children now, Lia Montserrat, 10 years old; Jeremías Agustin, 9 years old; Ulises Nicolás, 6 years old; then Candelaria was born on February 1st , 2001. She lived only 30 hours—it was very bad, and she died on February 2 nd . We were all so sad, because of this loss in our family. When I watched my daughter or my husband cry, the pain increased a lot. My child, Lía, said: I would like to die so that I could stay with my little brother..." As a mother, I didn't know how to answer her. I felt that God was not looking at our problems.... but I prayed more, until the little light in the dark night appeared: I found your web site ( www.neonatalhemochromatosis.org ) and then your help, and then Dr. Knisely and Dr. Whitington, too. My obstetrician stayed with me and helped me with the new treatment by Dr. Whitington. In October 2002, Trinidad was born! Today, we all remember our little Candelaria, but Trinidad erased the bitter taste. Today, we are all grateful to God for this miracle and you and the doctors, of course. Some people might not understand why I would seek another baby since I already have three other healthy children, but I felt that I wanted to have another child after losing my little Candelaria. It was a way to honor her life, however short it might have been, and to give another soul a chance at life. This is my story.
Maria Beatriz Montico
**************************************************************************
"Many people loved her..."
Gabriella "Gaby" Diaz
February 24, 1993 --April 8, 1993
Dear Sandra,
Thanks for the opportunity to remember my girls in this way. Gaby was born February 24, 1993 and died April 8, 1993. She was 31 weeks at birth. I lost all my amniotic fluid in a day and had an emergency c-section. She weighed five pounds three ounces and her lungs and heart were great. Of course we had no idea of the painful ordeal to come. In her first day of life, she vomited her entire blood volume. They were pumping it into her as fast as she was losing it. She went to surgery to have the ulcers repaired.
It took about 4 weeks for the doctors to realize what was causing Gaby to be so sick. In that time I came to see a beautiful personality. It was especially sweet when she would react with smiles to my voice and my touch, and to music. Many people loved her. The doctors at Rockford Memorial Hospital took wonderful care of her. She was the princess of the NICU because her Grandmother was a nurse there. She was a bronze color and had a belly full of ascites that was tapped every few days. It was very scary to let her go to Chicago to have a biopsy and be evaluated for a liver transplant. Once there, she was mismanaged and became septic within 5 days. She never did get the biopsy. Gaby's death was a horror to watch and experience. I was in the wrong place at the wrong time. I am pleased to
learn that Dr. Whitington has come up with a treatment to help families.
Danielle "Dani" Diaz
January 24, 1994--February 12, 1994
Several months after Gaby died, I was pregnant again. This was not planned. I contacted Dr. Knisely and studied his research on an experimental treatment to be given to the babies after birth. Once again I lost all amniotic fluid and had an emergency c-section at 31 weeks to deliver four pound seven ounce Danielle. She was born on January 24, 1994 and died February 12, 1994. The doctors at RMH were ready to try the experimental protocol. After one week, they could see that it was not working, so my parents contacted several liver transplant hospitals and started checking them out. Obviously, we were not going back to Chicago. In the end we decided on Pittsburgh, where coincidentally Dr. Knisely was practicing. Danielle was flown by Lear jet to Pittsburgh. When I arrived there, she was being cared for and loved by a wonderful nurse named Jennifer. Dani was uncomfortable and agitated most of the time. She needed to go on the respirator to give her lungs a rest. It was hard to see her suffer. She was precious, and had deep dark eyes. While I was with Dani in Pittsburgh, my three year old (Tara) contracted the chicken pox. I had never been away from her, so I went back to Illinois to see her and then planned to turn right around for Pennsylvania. There was a horrible ice storm, and I couldn't leave right away. Jennifer called me almost every hour to give updates on Danielle. When I was finally on the road, Danielle had a terrible brain bleed. It was determined that surgery could not be performed on her with so much brain damage. After the brain bleed, Dani's face softened and she lost all the puffiness, and was the most beautiful baby I have ever seen. That is saying a lot because all of my babies were gorgeous. She no longer felt any pain. Nurse Jennifer stayed with me, and dressed Danielle in a pretty dress and bonnet. She chose a blanket for her that matched her scrub jacket. That meant so much to me. I had to say when to turn off the life support, and held her while she died. It was so sad watching her gasp for air. Her death was more peaceful than Gaby's. Dr. Knisely performed her autopsy. Her liver was shriveled and hard.
Of course, I have never really recovered from the trauma of their deaths. A part of me is lost and broken even after 12 years. There's a void that cannot be filled. The raw pain subsided after two or three years, and a numbness replaced it. I guess that is coping. I have been able to live life and work and love. We became foster parents and adopted a wonderful little boy named Michael. Tara is now 14, and Michael is 9. My husband,Edgar, and I have had terrible struggles as a result of our grief, but we are still together. I had my tubes tied while having Danielle. I was able to accept the deaths of my children because I know I will see them again, and I know that they do not have to suffer in this world. Part of me is thankful that they have been able to escape the pain of this world and move on to a life with God, the creator of all things...the majestic King. How spectacular that must be. I know I could never have provided for them the life they have now. The hardest part of my life has been accepting that I could no longer have a healthy child. I see now that other families may not have to carry that burden. That is good.
Sandra, thank you for taking the time to make a difference. Even after so many years, I am happy to be able to honor and acknowledge Gaby and Dani's lives in this small way.
Sincerely,
Karen Diaz
(Roscoe, Illinois)
***************************************************************************
"Gone from our sight, but never our memory
Gone from our touch, but never our heart..."
Denzel Oliver Hill
September 29 – October 15, 2007
We live in Sydney, in a mixed marriage of an Australian father and an Indonesian mother. Kayla our daughter was 2 years 5 months when our son, Denzel Oliver Hill, was born. He had a special unexpected arrival for the birth. Kayla was nine days overdue and took 14 hours labour, so when the due date arrived and he was still not born, we were expecting the same scenario. On September 29, 2007, at five days overdue, I was putting my sandals on to go to the hospital when I started having really strong contractions about one hour after the first contraction. After a total of three strong contractions, Denzel decided that he wanted to be born at home and caught by his Dad on the floor of our lounge room. He was blue but breathing OK. The ambulance arrived not too long after that and they took us to closest hospital, not the hospital we booked in. The placenta was delivered in Auburn District Hospital and the midwife commented that it was a huge placenta (we can relate to this after more reading on NH). He was a big baby boy, 4300 grams (9 lb 7.68 oz) and 56 cm long (22 inches) with lots of hair.
The paediatrician was concerned with Denzel's blood count as the platelets were very low. This indicated there might be internal bleeding. As he was born at home, there were concerns that he had bleeding in his head, so they organized for a head ultrasound in Westmead Children's Hospital. There was a clear result and happily we were discharged from the hospital on day 5, with a planned follow up blood count and visit to the paediatrician within a week time.
We had a happy life as an expanded family in that first week. Denzel latched on really well, a good eater, sleeping well and an easy going personality. On the follow-up with the paediatrician at 11 days, he start looking a little jaundiced and his weight and blood count was still not picking up. But no major issues were discussed on the appointment.
The next day, at 12 days old, he's vomited a lot after every feed. We took him to the Emergency Department of Westmead Children's Hospital and he was admitted in Neonatal ICU. The next day there were so many different specialists that had seen Denzel. Countless blood tests, ultrasound images, plasma transfusion. By the end of the day, one of the specialists talked to us and mentioned that Denzel's liver doesn't work properly. The liver failure could come from infection and possibly be treatable but there was the possibility that he had a rare and untreatable disorder called Neonatal Haemochromatosis.
It was found that he had Urine Tract Infection and they treated every possible thing that they could treat. But sadly within 48 hours, there was no progress from any of the treatment.
On day 15 he kept going downhill. He was not responding, looking very jaundiced, the alarms beeping a lot, his little body moving in very jerky movements. He was making lots of noises and had trouble with breathing. Our little Denzel finished his battle in our arms at 5 am on October 15, 2007, only 16 days old. About five weeks later, the post mortem results confirmed that he had Neonatal Haemochromatosis.
Gone from our sight, but never our memory
Gone from our touch, but never our heart
Irma and Robin Hill
********************************************************************************************************
"Our precious girl..."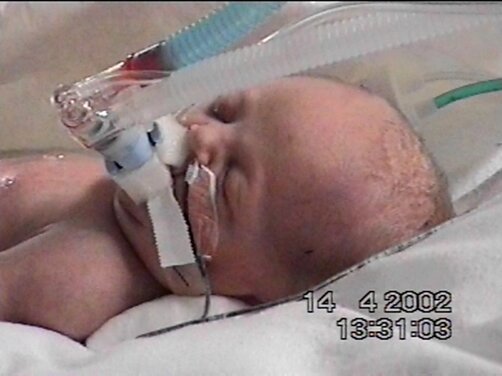 Charlotte Mai
April 12, 2002--April 27, 2002
My name is Dawn Coulson and I am from Leeds in the UK. In 1999, I gave birth to my 1st child, Lewis, who was a healthy boy. On Lewis' 1st birthday we decided to try again and 14 months later I was pregnant ! To our delight we found out we were having a girl.
On April 12, 2002, I went into early labour at 32 weeks and gave birth to Charlotte Mai. Everything appeared to be fine until her blood started to show it wasn't clotting properly and within 48 hours Charlotte had a very bad internal bleed into her lungs. She was very ill and we didn't know why until about day 7 when it came to light through a scan that Charlotte had liver failure. We felt numb and couldn't really understand what was happening. Charlotte was moved to a nearby hospital, St. James, where they had paediatric special paediatric liver team. On April 27, Charlotte lost her fight and died in our arms. We never got a real answer for losing our precious girl other than liver failure was the cause of her death.
Within a couple of months I was pregnant again. We were obviously nervous but the hopsital kept a close eye on me and everything just seemed to feel right this time. On March 4, 2003, I gave birth to Sophie! She was perfect and healthy, too. She had lots of tests but everything was fine. Sophie's birth healed so much of our pain and she was very special.
*************************************************************
"She was so beautiful..."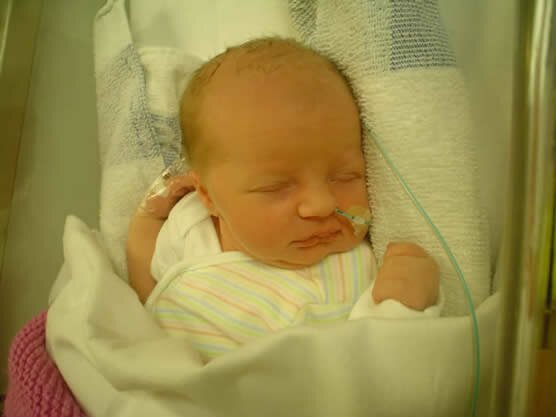 "Ruby Isabelle "
May 31, 2008 -- June 4, 2008
Nov. 2007, I was expecting again after a very early miscarraige. We found out I was having a girl again. To be honest, during my pregnancy i worried a lot and things felt different. I did express my concerns to the hospital but we were reassured not to worry.
On May 31, 2008, I gave birth to Ruby Isabelle 4 weeks early. She was so beautiful. After having routine blood tests shortly after birth her blood sugars were very low and so were her platelets. We suspected Ruby may have an infection and never expected what was to follow. Day 2 Ruby's clotting factors were checked and our world fell apart when they came back abnormal. Ruby was given every possible treatment to prevent any bleeds and it was obvious history was repeating itself. The liver doctors were wonderful but sadly by the end of day 3 Ruby got very ill and we had to make the decision whether to ventilate or not. We couldn't let Ruby suffer and get to the stage like Charlotte did. We took Ruby in our arms until she grew her wings. It was so hard to think we were having to go through all this again.
This time I needed answers and a limited postmortem revealed that Ruby had died from Neonatal Hemochromatosis. We now know that this would likely have been the cause for Charlotte's death, too.
Life is so cruel and having done research my heart is with all other families affected by this cruel condition.
Dawn Coulson
*********************************************************
"He had…the wisest eyes we have ever seen…"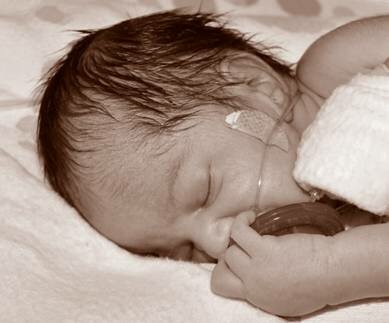 "Ethan"
Ethan Oscar Lokolong Nyangamoi
Ethan Oscar Lokolong Nyangamoi was born on May 12, 2010. He is our fourth child. His older brothers Simon and Reuben were so excited about his arrival. Our third child went into the arms of Heaven in 2009 before we were able to meet him/her. My pregnancy with Ethan was a bit rockier then with his brothers, but all seemed to be going smoothly. Our last ultrasound at 30 weeks showed no concerns. When he was born 6 weeks later, it was clear that something was terribly wrong. He was only 4 lbs. 6oz., and there was no amniotic fluid present at birth. We were blindsided when he was rushed off to the NICU, and totally unprepared for what was to follow. For two days the doctors called him a puzzle and then rushed him into emergency surgery to repair his intestines. We prayed that we were over the worst of it, and that we could now journey on the path toward healing. What followed was 10 days of anxiety, sleeplessness, fear, and finally acceptance as we lost hope of ever being able to bring Ethan home. He passed away on May 24, 2010 in our arms. Ethan was in the end diagnosed with NH. Ethan was so precious to us for the 8 ½ months he was in our lives. He was a little fighter, and possessed so much strength and courage in his little body. He had the most beautiful thick black hair, long piano fingers, and the wisest eyes we have ever seen. Ethan gave our family immense love and joy and now we are trying to find the strength to live without him in our arms but forever in our hearts. We live in the promise of seeing him again. Follow our journey "In The Storm" of grief and life at our blog: lhnmoi.blogspot.com (Visit "In the Storm", a tribute to Ethan" at:
http://lhnmoi.blogspot.com/2010/09/neonatal-hemochromatosis.html I have visited this site and it is beautiful, an extraordinary tribute to this NH baby. Sandra Thomas, President, AHS)
(Note: A wonderful update: A new baby, Ethan's younger brother, Gideon, was born on February 1, 2012. Thanks to the treatments that Gideon's mother had while pregnant, Gideon is healthy. We are very happy for this family. Congratulations.)
**************************************************************
"He weighed 6lbs 13oz, which is actually his Mommy & Daddy's anniversary numbers (6/13)..."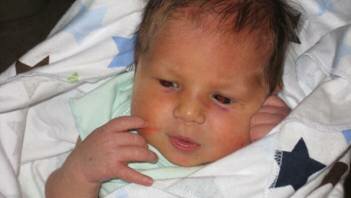 Tyler Jaycob "TJ" Hagen
Born: August 30, 2010
Earned his wings: Septemeber 25, 2010
Mom & Dad: Jodi & Tim Hagen of Chandler, AZ
Tyler was born via c-section on Monday August 30th, 2010, after a very normal 40 week pregnancy. He weighed 6lbs 13oz, which is actually his Mommy & Daddy's anniversary numbers (6/13). Within 12 hours of his birth he was not able to breathe on his own and was transported to a hospital with a neuro NICU. Once I was released from the hospital, we spent endless hours with Tyler in the NICU hoping for him to get better. He just wasn't able to keep his platelets within a normal range and his bilirubin numbers were off the charts. After 3 weeks of watching his platelet and bilirubin levels, our world was turned upside down when the Dr's started talking to us about NH. We were transferred to another hospital for a potential liver transplant and while waiting to get on the transplant list, his little body gave up and he earned his angel wings on Saturday, September 25th, 2010 with his Mommy, Daddy, Grandparents, Godparents, and those that loved him, holding him tight. We are anxiously awaiting God to send us another gift from above and undergo Dr. Whitington's treatment that has helped so many others to expand their families with the delight of a healthy baby.
Thank you,
Jodi Hagen
****************************************************
"She touched so many people's lives and brought many to God. God worked through her..."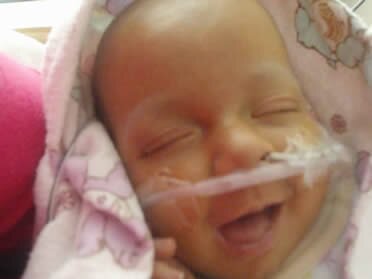 Adyson Lea Cheramie
9-19-09 to 1-22-2010
My name is Kari. My daughter, Adyson Lea Cheramie, was 4 months old when she passed away from NH. (9-19-09 to 1-22-10) When she was 2 months old, we were in Chicago with Dr. Whitington and she had 2 heart surgeries to close the PDA. All was going well and were sent back to a hospital closer to home. While there she got the flu, staph, and had a blood clot in her liver. We were referred to a doctor in Atlanta for a liver transplant. She passed away after being there a week. She touched so many people's lives and brought many to God. God worked through her and He was done and took her home.
Thanks for your time,
Kari Cheramie
http://www.caringbridge.org/visit/adysoncheramie
Adyson Lea Cheramie
Kari continues to share her story: "Soon after Adyson passed away, we did decide we wanted to have another baby. We contacted Dr. Whitington and became pregnant immediately and I went through the treatment in 2010. It was a surprise to us when we were told that her baby brother, Kasen Rivers Cheramie, was due on the one year anniversary of the passing of Adyson, which was January 22, 2011. He came a day early, January 21, 2011. Even though we miss her tremendously, we give God all the glory for blessing us with three beautiful children, Konner, 6, Adyson, and Rivers (1)."
(Note: Please see our Photo Gallery: "Page of Hope" to see a photo of Adyson's younger brother, Kasen Rivers Cheramie, born Jan. 21, 2011).
********************************************************************
"She will forever be a part of us..."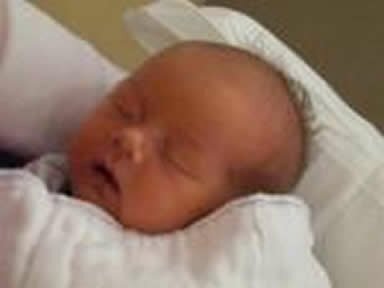 Makenna Van Laeken
October 22, 2008—December 3, 2008
This website was a resource during out daughter's fight to overcome NH. Unfortunately, we lost her after 6 stressful but wonderful weeks of life. We have submitted our story for others to read just as we did.
Makenna's story began on October 22, 2008 at 8:00 pm when she was born at Dupont Hospital in Indiana.. On October 23, Makenna was sent to the Dupont Hospital NICU. She was admitted for a low temperature, prolonged bleeding from her heel stick, and a low platelet count. After observation, they thought that she had an infection. We originally thought she would be in NICU for only 7 days.

Before the seven days were completed, doctors found some more abnormalities in her blood work. We were told that there could be a liver disease that hadn't been diagnosed yet. After several blood draws and phone calls to other doctors we still had no answers. We only knew that there could be some liver issues that needed to be explored. Our wonderful doctor and nurses at Dupont decided that Makenna should be transported to Riley in Indianapolis. They weren't giving up on Makenna, they just wanted the best care for her.

On October 30, Makenna was transported by ambulance to Methodist Hospital in Indianapolis. They wanted us at Riley, but their NICU was full. Methodist was the next best thing. Makenna would still receive the same care. We arrived in Indianapolis at 10:30 pm. After several hours, we finally got a chance to see Makenna. We immediately were greeted by doctors and nurses whom would be caring for Makenna. Our first night was overwhelming and very tiring. After a few hours of rest we were headed back to the hospital.

On Makenna's first day at Methodist it was decided that she would need a more permanent line for her IV medications and blood draws. It was decided to place a temporary port on her left side. We were very nervous and worried about this procedure. It is treated like a surgery. We didn't like the thought of Makenna being intubated and sedated. She came through everything just fine. The line was placed successfully with no complications. This was just the first of many things that Makenna would endure.

"...she made everyone in her life smile every time they saw her..."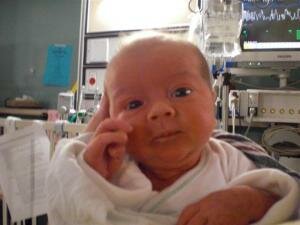 Makenna
Makenna's first day we met many more doctors and nurses that would care for Makenna. After spending a week at Methodist there was finally a spot open at Riley. We were told on the morning of November 6 that Makenna would be transported to Riley that afternoon. We were sad that we would be leaving our nurses and doctors at Methodist.

We moved to Riley that afternoon around lunch time. Once there we met more doctors and nurses that would be caring for Makenna. The doctors (entire teams of them) would come to see Makenna on a daily basis to check her labs and to examine her. We spent a lot of time waiting for test results and conclusions to be made about what was happening with Makenna.

At different points in our stays in the hospitals, we were most likely looking at diagnosing Makenna with either Tyrosinemia type I, a Mitochondrial disease, or a rare gestational disorder called Neonatal Hemochromatosis. The only definitive thing we knew was that Makenna was in a battle with her liver as it was failing due to 'something'.

During our time at Riley, Makenna underwent a double exchange blood transfusion. This is a process to remove as much of Makenna's blood and replace it with new donor blood. The procedure itself only took 4 hours but we had to wait 11 hours from the start of her prep work until it was finished. This procedure was done in hopes that we could remove the 'bad' blood and replace it with blood that would allow her liver to have a break and start to heal. The procedure went well and her body accepted the new blood and her lab results improved for a short day.

Shortly after the transfusion, Makenna got an infection. This infection would prove to be very devastating for her recovery.

After 3 weeks at Riley, and Negative results for Tyrosinemia and mitochondrial diseases, it was decided that Makenna was too sick to go on without a liver transplant.

We then were transferred to St. Louis Children's Hospital. Upon arrival, Makenna had a dangerously low blood pressure which kept her off the transplant list because she was on 3 blood pressure meds. She was able to stabilize her blood pressure and after the weekend, she was no longer on these meds. At this time, she was listed at one of the top spots in the entire nation. This stay on the list would be short. After her second MRI, it was revealed she had suffered severe brain damage and was bleeding in her brain. This would take her off the list and out of our lives but not our memories or hearts.

After 1 week at Dupont, 1 week at Methodist, 3 weeks at Riley and 1 week at Children's, Makenna passed away at 42 days old on Dec. 3, 2008 at 1pm (Eastern).
Autopsy results indicate Neonatal Hemochromatosis as the cause of liver failure.

She will forever be a part of us as we will remember, on a daily basis, the constant fight and determination she showed the doctors and nurses as she made everyone in her life smile every time they saw her.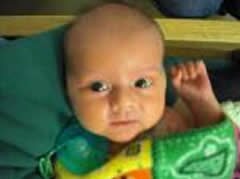 Makenna
We would like to thank all the Doctors, Nurses and support staff that took care of Makenna.
We at no time ever doubted they were doing the best they could to treat and take care of our precious little baby girl.
Thank you to you all! Please continue to touch and help young children each and every day.
Mike and Cheryl Van Laeken
***************************************************************************
"Too beautiful for Earth..."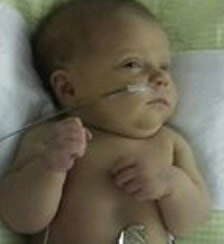 Verhonica Mae Rayne Mueller
April 9, 2012--April 30, 2012
The following story was submitted by Verhonica's maternal grandmother, Kelly Wolfe:
This is the story of Verhonica Mae Rayne Mueller, born April 9, 2012, she was born a beautiful baby and appeared to be healthy at a whopping 8 lbs 81/2 oz. Shortly after birth, she had some issues with her blood sugars and her heel prick would not stop bleeding.
On April 11,2012, which was her mothers birthday, she was transported from the hospital she was born in to Albany Medical Center. Once there they discovered that she had had a massive stroke, but still she was beautiful and we were very hopeful. We didn't care if she may have suffered brain damage, we just wanted to bring our Chubby Princess home.
She started receiving plasma transfusions, but her numbers were never really normal, they could not figure out what was wrong, although they had begun to suspect that her liver was the problem. She started having seizures and her transfusions were given more and more frequently. They were afraid to do invasive testing because her clotting numbers were so off, they didn't want her to bleed to death. Her seizures continued and worsened even though she was on four different types of anti seizure medications. As it turns out since her liver wasnt functioning correctly it was not processing the medications to stop the seizures.
Unfortunately on April 30,2012 she passed away leaving devastated parents, grandparents, and a big brother who very much looked forward to her arrival.
Still at the time of her death they still could not pinpoint the cause. We waited for 2 months for an autopsy from the hospital which was inconclusive because although there was some iron staining, there was not enough that they could say for sure. Ultimately her slides were sent to Childrens Hospital of Pittsburg for examination, and there the Dr. concluded that she had Neonatal Hemochromotosis.
We are still reeling from this tragedy and feel for all the other families that have had to go thru similar experiences.
Verhonica was a very loved and wanted baby, and she will forever live in the hearts of her family.
A poem that Verhonica's Mom found shortly after her death and has become for us, Rhoni's poem:
"An Angel With The Book Of Life Wrote Down My Baby's Birth, & Whispered As She Closed The Book,Too Beautiful For Earth."
"Rhoni"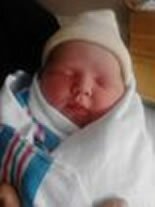 The following is Verhonicas obituary:
Verhonica Mae Rayne Mueller, 8lbs., 8 1/2 oz., born Monday, April, 9, 2012, was called home early to be an angel from Albany Medical Center on Monday, April 30, 2012.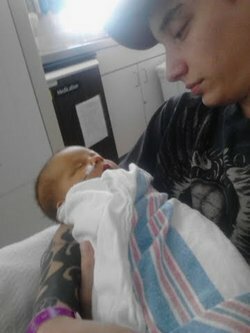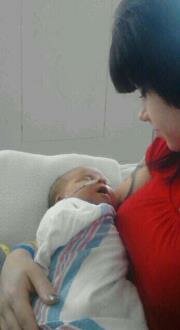 Rhoni & Daddy (Christopher) Rhoni & Mommy (Sabrina)
Her beloved parents, Christopher and Sabrina (Wolfe) Mueller, were blessed with her life for 21 days. "Although she was with us for a short time, we will never forget her beautiful,
precious features, the soft touch of her infant skin, and how much we will miss her!" She was known lovingly to her family as "Chubby Princess," "Chumba" and "Nugget."

Verhonica was predeceased by her great-grandmother, Barbara Claire, her great-grandmother, Evelyn M. Monroe, great-grandfather, Raymond D. Wolfe, and great- aunt, Rhonica L. Wolfe.

In addition to her parents, Christopher and Sabrina Mueller, Verhonica is also survived by her big brother, Drayven Mueller, all of Pottersville; also her maternal grandparents, Ricky and Kelly Wolfe of Pottersville; paternal grandparents, Shaun and Angel Mueller of South Glens Falls; maternal great-grandparents, Kenneth Monroe of Pottersville, and Robert and Irma Russell of Sodom; paternal great-grandparents, Garry and Jan Mueller of Spokane, Wash., and Michael and Dorothy Brown of South Glens Falls; her aunt, Briana Mueller of South Glens Falls; and several great-aunts, great-uncles and cousins.
**Note from Sandra Thomas, President, American Hemochromatosis Society: I received some very exciting news recently from Rhoni's maternal grandmother, Kelly Wolfe. This is what she said...
"My Granddaughter Verhonica Mueller is in the memorial section of the NH page. She passed away at 21 days of NH. I am pleased to tell you that this past week on March 18,2014 my daughter and her husband welcomed their first IVIG rainbow baby, Violette Rhaeca Maeve Mueller. She arrived at 36 weeks, due to the fact that my daughter developed a rare anemic reaction to the IVIG.
Violette was 6lbs 2.2 oz. and was 18 inches long, her liver enzymes were slightly elevated at first but corrected themselves after a few days with no treatment; she is doing great and amazing us every day. I am enclosing a photo of Violette, and one of her and her big brother Drayven to add to the success story section of your site. (please go to the photo gallery to view the photos).

Huge thanks to you and to Dr. Whitington for allowing families to have healthy babies after the biggest heart break.

Thank you,
Kelly Wolfe

************************************************************
"My beautiful son..."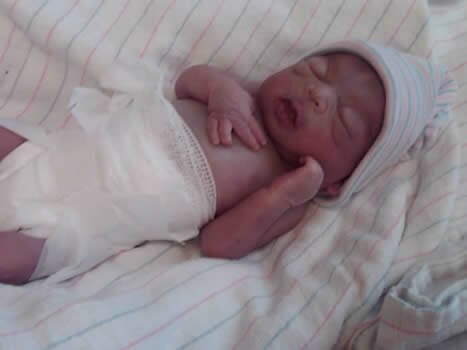 Noah Anthony Humphries
Born: 10-1-2009
This is my son, Noah Anthony Humphries. I birthed him at 30 weeks gestation on October 1st, 2009. He died shortly after birth due to his liver and other organs being ruined by the effects of Neonatal Hemochromatosis (NH). I knew for two months that I would lose my son once we discovered there was something terribly wrong occurring.
On October 1st, 2009, I gave birth to my beautiful son, watched him look around the room as I held him before he was rushed to the NICU and the Neonatologists attempted to save his life. This was not successful and I had to say goodbye to my first child. The worst and most painful event I've ever experienced.
Nadia Davis
(Note: Please see the Photo Gallery of Hope where Noah's little sister, Olivia Noelle Davis, is pictured and her success story told).
(Update/August 17, 2013: Please visit the Photo Gallery of Hope for a recent photo of Noah's little sister, Olivia).
************************************************************